Jane Russell has died at her home in Santa Maria, California. She was 89.
She starred at age 19 in Howard Hughes movie,
The Outlaw
, made in the 1943 but not released nationwide until 1950 because of censorship problems.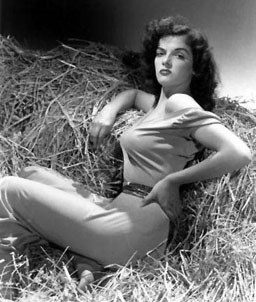 I posted something not long ago----I had a teacher in high school who told about going with his friends and crossing state lines to see
The Outlaw
. It was banned in his state. He said that he and his friends were disappointed. He was discussing censorship and how conservative the country had become in that era.
The first thing I remember seeing her in were Playtex bra commercials. That had to have been the 1960s. I didn't know who she was. It came as a surprise when I saw her later in Tom Laughlin's
Born Losers
, the first Billy Jack movie. They showed it over and over on Home Box Office in its early days.
Russell played Calamity Jane in
The Paleface
and
Son of Paleface
with Bob Hope. She starred with Marilyn Monroe in
Gentlemen Prefer Blondes
, which was her favorite movie. Streaming video is available on Netflix if you want to see it.
According to her obituary in the L.A.
Times
:
"These days I'm a teetotal, mean-spirited, right-wing, narrow-minded, conservative Christian bigot, but not a racist," she told an Australian newspaper, The Daily

Mail

, in 2003. Bigotry, she added, "just means you don't have an open mind."
Well, it was good that she wasn't racist. Perhaps she should have been open-minded. She didn't drink because she had gone through treatment for alcoholism. She had three children, two sons and a daughter, all adopted. She was unable to have children after an illegal abortion she had before she was married. She became an abortion opponent and founded the World Adoption International Fund in the 1950s.
I remember back when she revealed that she had had the abortion in Mexico in the 1940s. At the time I heard this, I assumed she was revealing this because she was pro-choice.
She was in an episode of
Hunter
in 1986, her last role.
Well, she led an interesting life. Somehow, I'm not surprised to learn that she was a right-winger. I'm a little surprised she was so religious.
From the obituary in the L.A. Times:
Ms. Russell was very public about her religious convictions. She organized Bible study groups in Hollywood and wrote about having experienced speaking in tongues. In her memoir, "My Path and My Detours" (1985), she described the strength she drew from Christianity.

A higher power was always there, she wrote, "telling me that if I could just hold tough a little longer, I'd find myself around one more dark corner, see one more spot of light and have one more drop of pure joy in this journey called life."